Dr. Victor Chan, nephrologist
A slowly progressive loss of kidney function.
The main function of the kidneys is to remove waste and clean blood. They also produce hormones that help balance water and minerals in your body. Chronic damage to the kidneys can occur from a variety of causes, starting slowly and over time, in months and years can lead to end-stage renal disease (ESRD).
Who is at high risk?
Kidney disease affects 10 percent of the adult population. It is often associated with diabetes, hypertension, cardiovascular disease, a family history, Asian ethnicity, aboriginal population. This leads to 10 times cardiac mortality and morbidity, longer hospital stays, adverse reaction to drugs and increase the risk of acute kidney injury. Diabetes and hypertension account for the majority of ESRD patient population.
How can it be prevented or controlled?
Evidence clearly shows control of blood pressure, proteinuria and blood sugar in diabetes can prevent or postpone CKD. Knowing the cause (where possible) of kidney disease, kidney function (eGFR) and urine protein, known as albumin creatinine ratio (ACR) are 3 dimensions in developing a management plan. Suggested management based on eGFR and ACR level: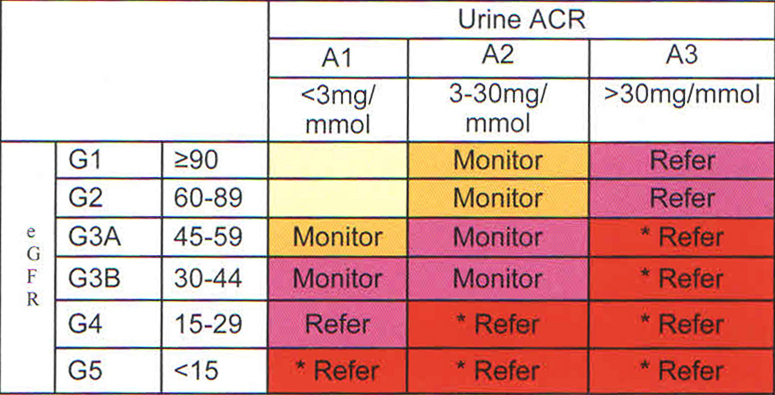 * More urgent referral to specialist
A) Serum testing: eGFR, an estimate of kidney function, has some limitations but a useful guide on repeat measurements. Limitations are extreme weights, protein intake and hydration.
eGFR 60 to 100: No urine protein, normal urinalysis—no action needed and repeat in 1 year.eGFR 30 to 59: Look for cause, urine protein, ultrasound, immune serology.eGFR 30 and below: Refer to a nephrologist for management plan including Kidney Care Centre for follow up.eGFR Below 20: Prepare for renal replacement.
B)Urine testing: ACR (albumin creatinine ratio) relies on repeat and follow up tests.ACR above 3 is abnormal, refer to a nephrologist if above 30.
C) Urinalysis: Red and white blood cells, casts may point to systemic disease such as lupus.
D) Kidney biopsy: may sometimes be needed for diagnosis
Potential complications of CKD:
Anemia, high blood pressure, decrease calcium absorption, high phosphate leading to bone disease, hyperparathyroidism, acute kidney injury, drug toxicity, high potassium, lipid abnormality and heart failure,Patients should be referred to a specialist when eGFR drops to 30 or below, or an abrupt drop in eGFR (15 or above) over 3 months, ACR 30 or above, or history of hereditary kidney disease.
Management:
Patient-centered care: In BC there are 14 Kidney Care Centers with multi-disciplinary clinics available, where the physician, specialist, nurse, dietitian, social worker and pharmacist form the team, The Centers are taking care of patient registration, recall, record management and flow sheets, etc.Patient and family are encouraged to participate at the Center with the patient support team.
How can I prevent or control CKD?
There is no cure of CKD but by taking an active role in knowing the illness and forming a management plan, and with the advice of healthcare team, kidney failure can be delayed.
Care objectives and targets:
Avoid acute kidney injury.
Control blood pressure, and blood sugar level
eGFR every 3-6 months, and ACR every 6 months
Monitor serum potassium
Cardiovascular condition and lipids control
Nutrition and exercise
Quit smoking
Hepatitis A and B vaccination, flu vaccine yearly and Pneumovax as advised by a specialist.
Drugs: Avoid over-dosage and toxicity
Psycho-social health
Kidney Care Center
Patients are followed at intervals of 2 to 6 months depending on CKD stages. Stage 4 patients are advised to attend options classes held by the Kidney Care Center team. Those choosing hemodialyses are encouraged to proceed with the early arterio-venous fistula (AVF) creation in order to avoid the need for dialysis catheters, which may carry high clotting and infection rates and mortality. AVF requires 3 or more months to mature. For peritoneal dialysis, catheter placement can be done at the bedside or surgically.Early transplant referral to Vancouver General Hospital or St. Paul's transplant team for identification of potential donor, evaluation of cardiovascular and other major organ status, blood typing and antibody screening can help to facilitate early transplant at times avoiding dialysis (pre-emptive transplant). Patients may decide on conservative treatment without dialysis after being presented with the facts of their condition.
The Canadian Health Awareness Society is a registered non-profit organization. Our Mission is to promote health awareness on health issues for all Canadians by education, support and advocacy.